Arnold C. Luetgert
Adolph Luetgert's eldest son and his staunch defender during the trials.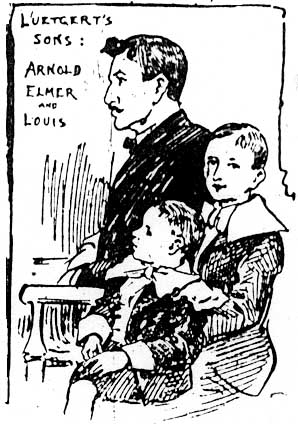 In 1895, he was listed in the City Directory as living with his family on Hermitage. His profession was "commercial traveler" (salesman). He had moved by 1896. At the time of his father's trial in 1897, he was living in Indianapolis and working as a traveling representative of John Featherstone's Sons, manufacturers of engines and refrigerators.
Born: 1875, in Gütersloh, Westphalia (now Germany). Read about Gütersloh.
His mother was Adolph Luetgert's first wife, Caroline Roepke.
Arnold's whereabouts in the years following his father's death are uncertain. It was rumored among other members of the Luetgert family that he had moved to the West Coast and married an osteopath. The 1920 Census includes a reference to an Arnold Luetgert residing in Portland, Oregon, in 1920. If this is indeed the same Arnold Luetgert, he was married to a woman named to Elizabeth P. Rosteck.
View the Luetgert-Bicknese family tree.