Luetgert Watchman's Son Killed in 1916
The son of Luetgert factory watchman Frank Bialk, John Bialk later became a Chicago police officer and was killed in the line of duty. On September 25, 1916, the Chicago Tribune reported:
When Detective Sergeant John N. Bialk held his duty first and was fatally wounded because of it, he left eight persons without means of support. Bialk died yesterday in the Alexian Brothers' hospital.

John Depew of 1925 North Park avenue is held for murder. In the Bialk home at 23 10 High street Mrs. Bialk and her five children were in grief. With the death of husband and father their support was cut off. Bialk earned $1,450 a year and on this he supported his own family and his aged father of and mother.

Bialk was shot last Thursday when he went with Mrs. Nellie Depew, who complained that her husband had put her out of their home. Depew met them as they entered house. He first shot his wife and then shot Bialk. The detective clung to his prisoner until he took him outside and turned him over to another policeman. Then he fell senseless.

The Bialk children are: Alice, 16 years old; Margaret, 13; Florien, 11; Elizabeth, 8, and Eleanora, 1 year old.

Three years ago Mr. and Mrs. Frank Bialk, the detective's aged father and mother, celebrated their golden anniversary. Because of the large family he supported, Detective Bialk was unable to save. Therefore, it is said, the family is left without means. He is the fifteenth policeman to be killed in line of duty in two years.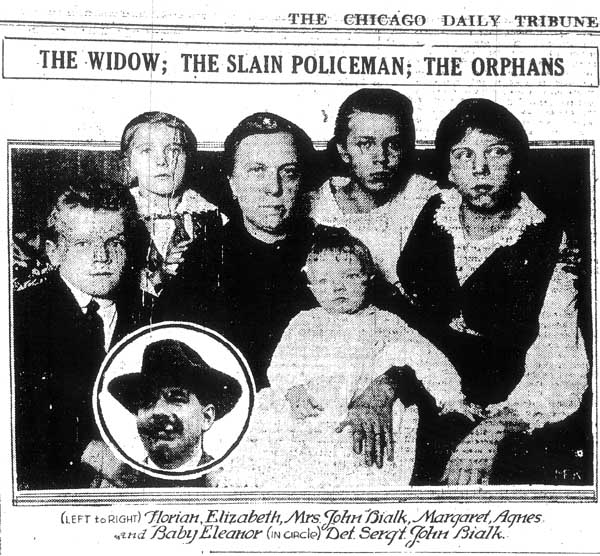 John Depew was later acquitted of the murder.
Pictures: Chicago Daily News, Sept. 9, 1897; Chicago Tribune, Sept. 25, 1916; Chicago Record, Sept. 9, 1897.